Okay, so I'm doing this post because it interests me (thanks, Houston Rockets Mania Blog for the inspiration) and for Duke this year, there are many, many weapons offensively and defensively. It's pick your poison for an opposing coach, in reality, but which 5 poisons should get the start? There's also the fact that between the draft and the NCAA's four-season limit, last year's usual starting lineup (when Alex O'Connell didn't get the start) is GONE. It'll be hard to see a Duke starting lineup without Grayson, but here we go anyway.
First: The 2017-18 Lineup but Younger!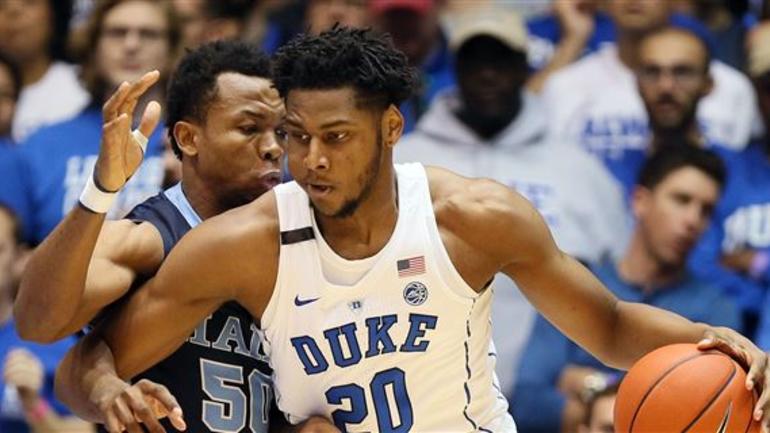 Well, we all remember last season when it was Grayson Allen and a whole bunch of freshmen in every single starting lineup. Heck, I'm pretty sure Grayson was the only non-freshman to start except maybe Javin DeLaurier. Anyway, this lineup is…
G Tre Jones
G Cam Reddish
G RJ Barrett
F Zion Williamson
C Marques Bolden
Bolden never got much time to shine last season between injuries and future NBA star Wendell Carter, and he is a really, really good player. We need him to be able to break out this season, and giving him room to do so is a good way to start. Bolden would also be the only player with any experience whatsoever. He'll be a junior next year (how the heck did THAT happen?) and will have to help lead the team, alongside fellow junior Javin DeLaurier and (gasp!) seniors Antonio Vrankovic, Brennan Besser, and Justin Robinson (again, how is four years so short all of a sudden?). Having a veteran (well, kind of) in the starting lineup will be very helpful next season.
Second: Freshmen all around! Lineup
Not to mention Zion at Center. That will certainly have the college basketball world freaking out. If you didn't see my post before this, Zion, as SBNation put it, is a refrigerator with wings. He would be the second-largest player in the NBA, and he's a BEAST. Not to mention the "wings" part: he can FLY. But here it is:
G Tre Jones
G Joey Baker
G RJ Barrett
G Cam Reddish
F Zion Williamson
That would be fun. I don't really know how developed Joey Baker is after reclassifying from the 2019 class, but, hey, he could be. However, I think they'll probably use him as a sixth or seventh man. However, it would be an extremely vulnerable lineup seeing as no one of them has any experience whatsoever. I doubt we see this lineup much if at all this season.
Third: A Grayson Allen-esque Breakout?
G Tre Jones
G Alex O'Connell
G Cam Reddish
F R.J. Barrett
F Zion Williamson
If you remember, in 2016 Grayson Allen had a breakout year in which he averaged 21 points. Really, the breakout happened during the National Championship game in 2015, but that carried out into his next season. He got a lot stronger between those seasons,  gaining some weight and assuming his position as a leader and a difference maker on that squad that made it to the Sweet Sixteen. That could be Alex O'Connell this year. He's a good shooter, but he's very wiry and has little to no bulk on him. Maybe this season will be a breakout for Alex.
Fourth: The Cam-at-PG Lineup
John Calipari used Reddish at point guard in the Team USA U19 World Championship in Egypt last year. That trip was spoiled by R.J. Barrett himself, now Reddish's teammate, as Barrett exploded for 38 points, 13 rebounds, and 5 assists. But anyway, here it is:
G Cam Reddish
G RJ Barrett
G Zion Williamson
F Javin DeLaurier
C Marques Bolden
This lineup throws another piece into the puzzle: Javin DeLaurier. His versatile game is in need of improvement, but with some hard work, he could become a difference maker for the Blue Devils. He's very athletic which makes him an intriguing figure. Can he use that athleticism in a beneficial manner on the offensive end as much as he does defensively? We'll see. Meanwhile, he will almost definitely continue to be a great teammate as always. He's always come off as a really great guy to be around because of his dedication to the team.
Obviously, there are plenty more possibilities for this loaded team. Regardless, this is one of the most talented teams we've seen in a while (which we seem to say every year).